2 days of Diesel Truck & Tractor Pulling madness!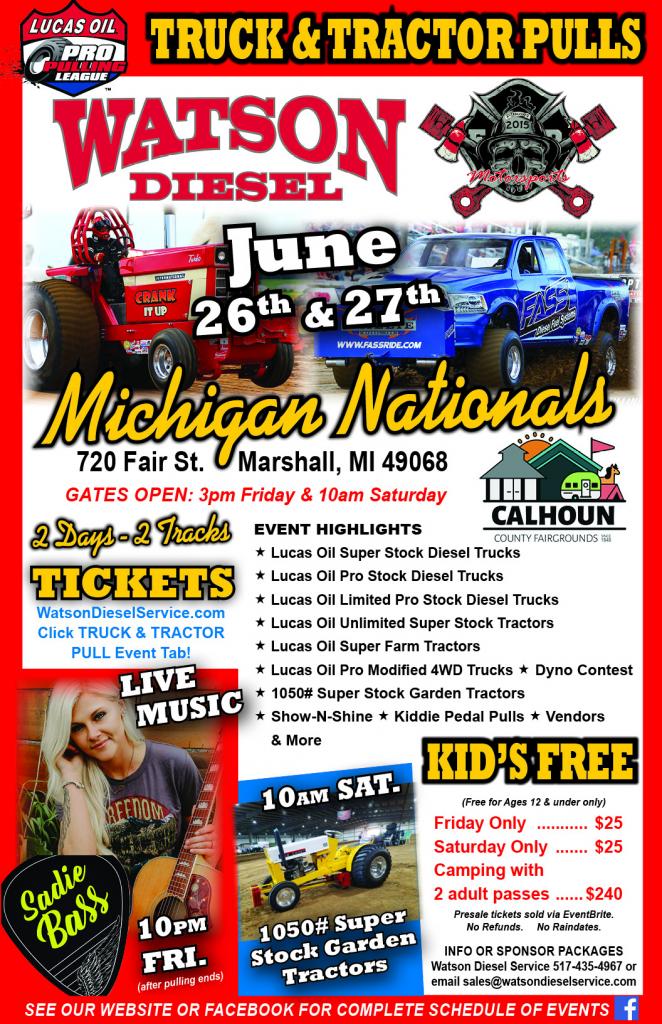 Children 12 and under FREE with paid adult
Friday Only $25
Saturday Only $25
Camping w/2 adult weekend passes $240

No refunds or exchanges!


Tickets may also be purchased at the gate!

* PLEASE READ BELOW FOR OTHER IMPORTANT DETAILS *

Horsepower and the roar of the baddest trucks and tractors will fill the air this summer in Calhoun County. The Lucas Oil Pro Pulling League is bringing the best pulling vehicles in the nation to the 2020 Watson Diesel Michigan Nationals. And it all happens June 26 and 27. CHILDREN 12 and under are FREE!!! Come join us at this family friendly event!

"We are excited to partner with the Watson Diesel Michigan Nationals and are pleased to be bringing an event of this national caliber to Calhoun County", Fairgrounds General Manager, Jen Rice.

Gates open at 3pm on Friday and 10am on Saturday, watch 6 of the most powerful diesel classes in the nation for two days of intense pulling action. But that's not all, event highlights include; Kiddie Pedal Pulls, Live Country/ Rock Music Friday Night, Dyno Contest, Show-N-Shine Contest, vendors and great food!

The first session will begin at approx 6pm on Friday and approx 6pm Saturday. Limited Pro Stock Diesel Trucks (3.0), Super Farm Tractors, Pro Stock Diesel Truck (3.6), Unlimited Super Stock Tractors, Pro Modified 4WD Trucks, Super Stock Diesel Trucks will all be in action. Each class will pull in two sessions during the weekend Competition.

New this year will be the National 1/4 Scale 1050# Super Stock Garden Tractor Pullers at 10:30am Saturday. Not your average garden tractor with over 100 plus horsepower.

Don't miss our live musical entertainment! Friday performing after the conclusion of the pulls is Sadie Bass, Jason Cross and the boys. We are so happy to be able to have these local artists join us for the fun filled weekend at the Calhoun County Fairgrounds with a mix of Country & Rock tunes!

We are proud to team up with Calhoun County Fairgrounds and Lucas Oil Pro Pulling League to bring fans and pullers in from all over the Midwest for a motorsports packed weekend they won't forget!
Visit us on Facebook @ Watson Diesel Michigan Nationals for up to date info!

* MUST BRING PRINTED PAPER TICKETS TO GATE TO RECEIVE WRISTBANDS *

* (ELECTRONIC / DIGITAL COPIES WILL NOT BE ACCEPTED AT THE GATE) *

Food and Beverages: No outside beverages or food of any kind is allowed. Once inside the Festival, you can purchase food and drink from a variety of vendors.

You must be 21 years of age to purchase and consume alcoholic beverages. You must have a photo ID.
(See below for more rules / regulations and campsite info.)

---
For Sponsorship opportunities contact ..... sales@watsondieselservice.com or call 517-435-4967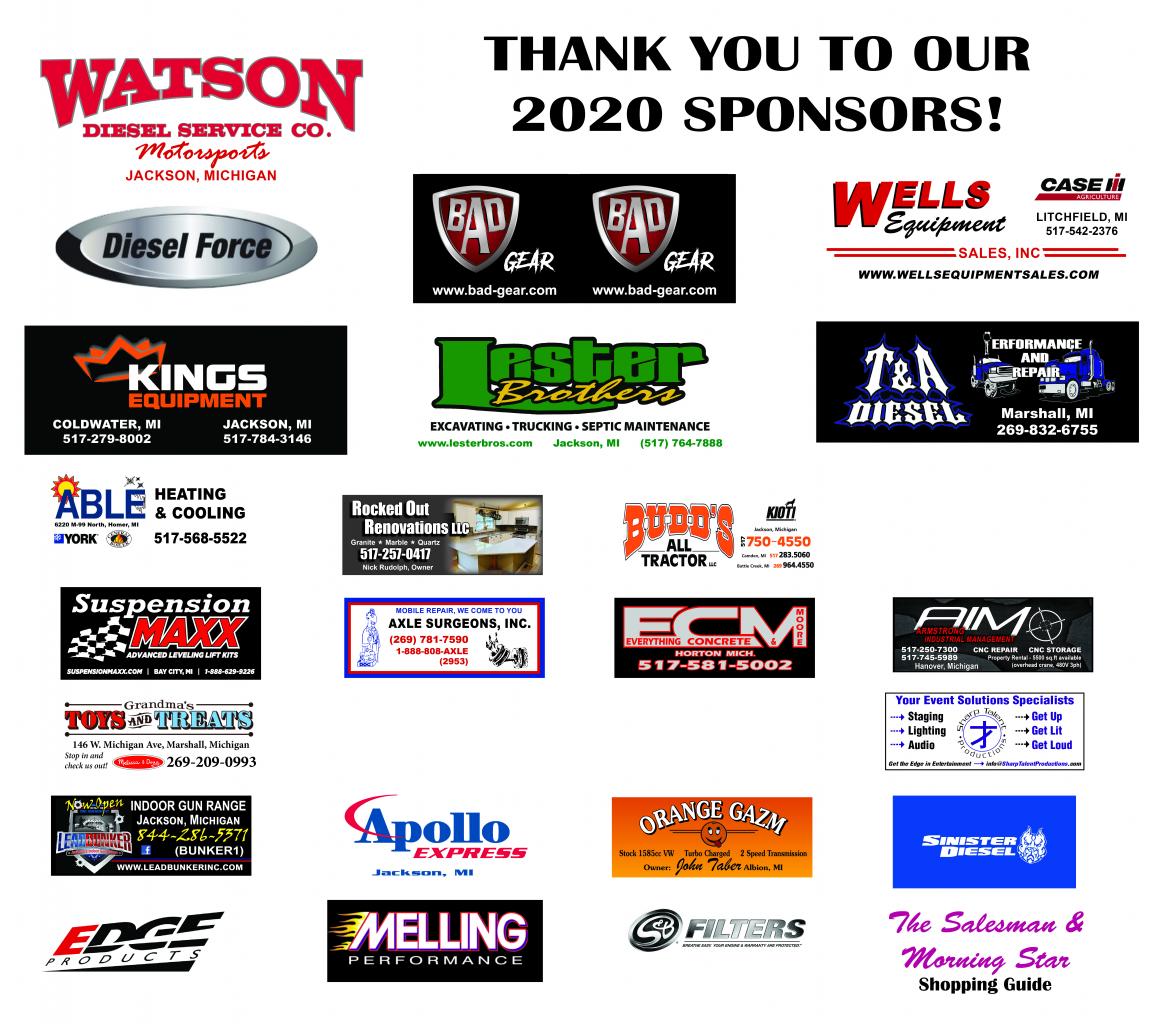 ADDITIONAL RULES / REGULATIONS and INFO

There are certain items that are NOT permitted and cannot be brought into the event grounds. The event reserves the right to alter carry-in policies at any time. Currently, items NOT permitted include, but are not limited to:


No outside food or beverages
No cans or glass bottles
No alcohol (must be purchased onsite
No contraband
No pets (except service animals)
No laser pointers
No drones, remote control aircraft
No weapons of any kind


Please Note: All patrons subject to search upon entry.


Handicap Accessibility: There are handicap accessible restrooms, a designated seating area at the main stage that is for handicapped patrons and one companion.


Wristbands must be worn at all times. The facility reserves the right to refuse admission or eject any person violating the facility, local, state, or federal laws or whose conduct is deemed illegal, disorderly or offensive by management.


Performers, performance times, programs, dates and times are subject to change without notice.


Patrons entering the facility are subject to having their image and/or likeness reproduced for promotional and/or publicity purposes in event photography and/or Web casts by the event, contractor or partner of the event.


First Aid stations and EMT will be present on the event grounds.


Portable restrooms and a bath house w/handicap restrooms and showers are available on the event grounds.


Enjoy the music, friends, family and fun!




CAMPING RULES and REGULATIONS

Campsites: Please adhere to the following:


One camper, trailer, tent, bus or any other camping unit per lot.


Not more than one car or similar component of transportation per campsite.


Campers will not be allowed on the grounds until 10:00 a.m. Friday, June 26


All camping units must have adequate fire extinguishers.


All open fires must be contained in a fire ring (Not provided).


Restrooms and showers are available in the campgrounds.


The management is not responsible for accidents or injury to guests, or for loss of money, jewelry or valuables of any kind.