Watson Diesel Michigan Nationals
* Scroll Down For More Information *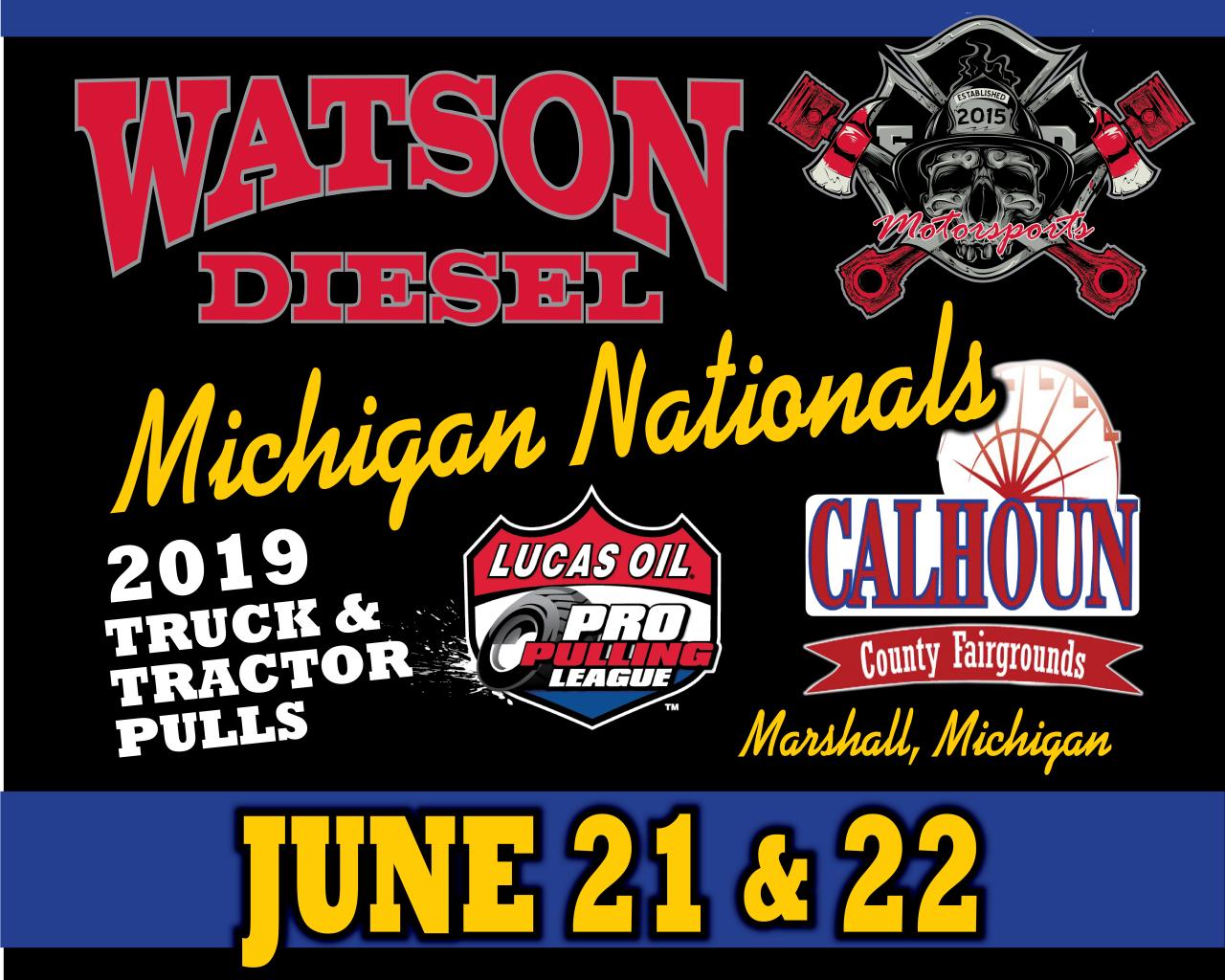 Watson Diesel Michigan Nationals Truck and Tractor Pulls coming to Calhoun County Fairgrounds June 21 and 22
MARSHALL, Mich. (May 1, 2019) — Horsepower and the roar of the baddest trucks and tractors will fill the air this summer in Calhoun County. The Lucas Oil Pro Pulling League is bringing the best pulling vehicles in the nation to the 2nd Annual Watson Diesel Michigan Nationals. And it all happens June 21 and 22. CHILDREN 12 and under are FREE!!! Come join us at this family friendly event!
"We are excited to partner with the Watson Diesel Michigan Nationals and are pleased to be bringing an event of this national caliber to Calhoun County", Fairgrounds General Manager, Jen Rice.
Gates open at 3pm on Friday and 10am on Saturday, watch 5 of the most powerful diesel classes in the nation for two days of intense pulling action. But that's not all, event highlights include; Kiddie Pedal Pulls, Live Country/ Rock Music, Dyno Contest, Show-N-Shine Contest, vendors and great food!
The first session will begin at 6pm on Friday and 6pm Saturday. Limited Pro Stock Diesel Trucks (3.0), Super Farm Tractors, Pro Stock Diesel Truck (3.6), Unlimited Super Stock Tractors, Super Stock Diesel Trucks will all be in action. Each class will pull in two sessions during the weekend.
New this year will be the National 1/4 Scale 1050# Super Stock Garden Tractor Pullers at 10:30am Saturday. Not your average garden tractor with over 100 plus horsepower.
Don't miss our live musical entertainment! Friday performing after the conclusion of the pulls is Sadie Bass of singer/songwriter from Bath, Michigan. Performing Saturday at 3pm will be Mallery Lynn, singer/songwriter of Jackson, Michigan. We are so happy to be able to have these local artists join us for the fun filled weekend at the Calhoun County Fairgrounds with a mix of Country & Rock tunes!
"This event has been a dream of mine from the day we started our business," said Kyle Watson, Watson Diesel president. "We are excited to bring back this large scale truck and tractor pulling event to the Great Lakes State with a few added extras this year. We are proud to team up with Calhoun County Fairgrounds and Lucas Oil Pro Pulling League to bring fans and pullers in from all over the Midwest for a motorsports packed weekend they won't forget!"
Weekend Pass is $50, Day Pass $25. Children ages 12 and under are Free. Camping package includes campsite and 2 adult weekend passes for $240. Tickets and camping can be purchased by calling 517-435-4967 or on-line at www.watsondieselservice.com.
Click "Going" on the 2019 Watson Diesel Michigan Nationals event and or "like" and "follow" our Watson Diesel Michigan Nationals page for up to date information!
---
---

For Sponsorship opportunities contact ..... sales@watsondieselservice.com or call 517-435-4967