DIESEL FORCE EMISSION SYSTEM CLEANSING

Emission System Solutions Available At

CALL US TODAY FOR APPOINTMENT or MORE INFO!
CLEANS ENTIRE DIESEL ENGINE IN ABOUT TWO HOURS*
COMPLETELY CLEANS ENTIRE:
EGR CIRCUIT
OIL SYSTEM
FUEL SYSTEM
The Diesel Force™ Maintenance Program is a revolutionary cleaning system designed exclusively for diesel engines equipped with modern emissions systems. Powerful products work together for comprehensive cleaning results. This program will significantly reduce filter regeneration and emissions system component failures.

Our full-time staff is committed to helping you find a solution to your unique situations.

Stop Replacing EGR valves, EGR coolers, VGTs, and DPFs. Maintain them with Diesel Force™
CUSTOM DIESEL FORCE™ KITS CAN BE MADE FOR ANY ENGINE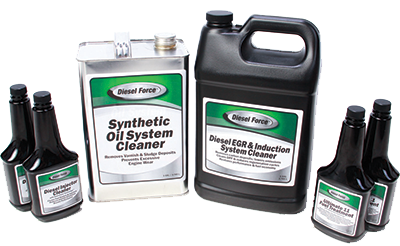 Kits for large and small displacement engines. We package one vehicle per box.
We make kits according to your needs. We can address your unique situation.
Call Watson Diesel Service today for more information 517-435-4967